KATHY COTTER
MAGIC SHOW
Cotter's work is always magic. This time top hats and white rabbits and magic wands weaving a spell all their own. Is it real or is it, like we said, magic?
AUGUST 28 - SEPTEMBER 3
Opening Reception Friday August 30, 7 - 10 PM
ARTIST STATEMENT
In this show I am exploring some the iconic images associated with "Magic". The image of the rabbit in the hat dominates the show, yet I tried to evoke different emotions through color combinations and facial expressions.
The intention of these paintings is to be fun and whimsical , It is my hope to put a little MAGIC into everyone's day,
BIOGRAPHY
KATHY COTTER IS A SELF TAUGHT PAINTER LIVING AND WORKING IN PROVINCETOWN, MASS.
THE PARTICULAR BEAUTY, SETTING AND CHARACTER OF THE OUTER CAPE HAS INFORMED HER AESTHETIC AND HAS BEEN A BASIS FOR HER PAINTING STYLE AND INTERPRETATION OF SUBJECT. COTTER HAS DEVELOPED A VIBRANT AND PERSONAL TAKE ON THE MARRIAGE OF ENCAUSTIC PAINTING, COLLAGED ELEMENTS, AND TRADITIONAL OIL TECHNIQUE. SHE HAS HAD GALLERY REPRESENTATION SINCE 2007 AND BEEN A PART OF MANY GROUP AND JURIED SHOWS. HER WORKS ARE IN PRIVATE COLLECTIONS THROUGHOUT THE US AND BEYOND.
PUBLICATIONS
PROVINCETOWN MAGAZINE, VOL 30 ISSUE #20, 2017
COMMISSION WORK IS AVAILABLE. PLEASE INQUIRE AT ADAMPECKGALLERY@GMAIL.COM
ARCHIVE
UNFURLED 2018
UNFURL: To spread or shake out from a furled state, as in a sail or flag."
"My take on it is more a state of mind. As a very busy summer comes to an end, I am finally able to unwind, unfold, and set sail with these new paintings.The works in this show include dories, sailboats in various stages of furl, lighthouses and more. Some scenes will be recognizable. Most of these images are from my memories and my imagination.
Don't we all want to sail away, hearts light, free from our cares. So unfurl!
ARCHIVE
ESPADRILLE 2018
" In my paintings I try to give life and or personality to both animate an inanimate objects. As soon as I saw Michael shoes I was compelled to paint them. I didn't just want to paint the shoes however, I wanted to paint them in action . in every day scenes to show their versatility and playfulness. For me this is been a joy and the possibilities are endless. I look forward to painting more espadrilles in the future."
Cotter has teamed up with Michael Tonello of (tap here for website) RESPOKE to bring art and function in a dance of painting and footwork. The ancient espadrille has met recycle using treasured Hermes scarves and Cotter has translated the idea into paintings that put the shoes on feet, and away they go.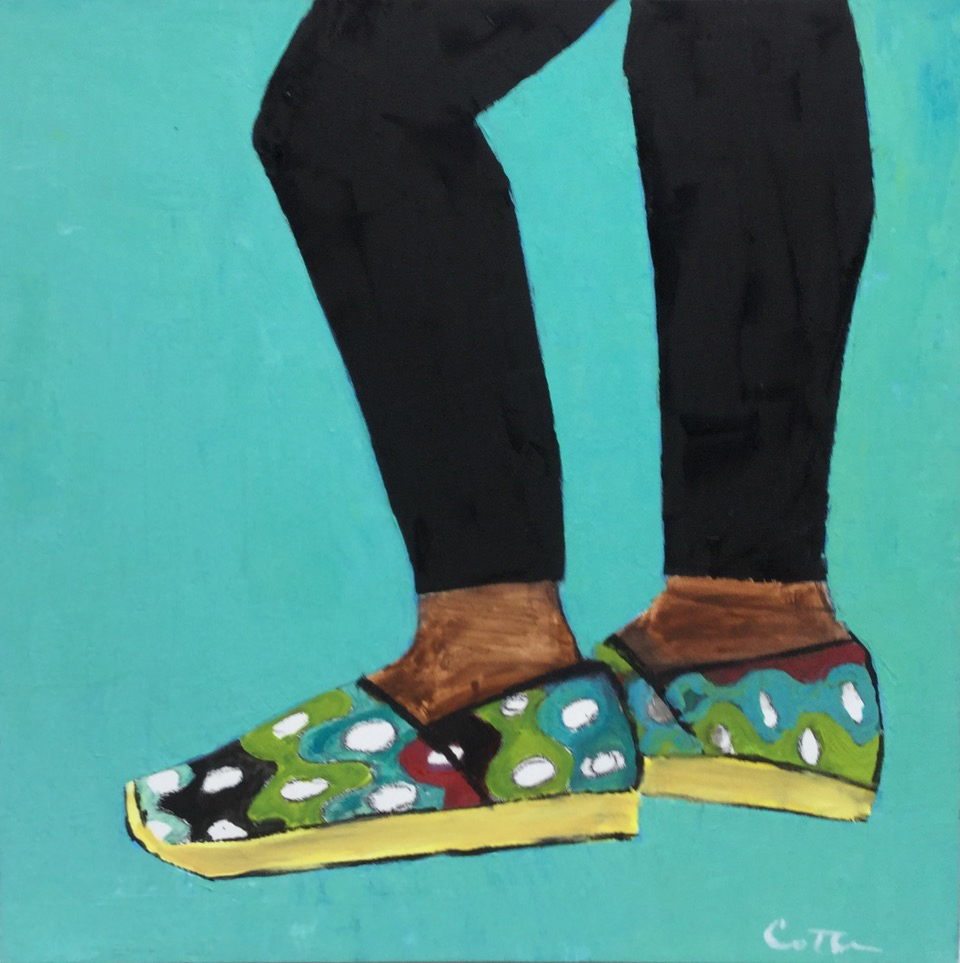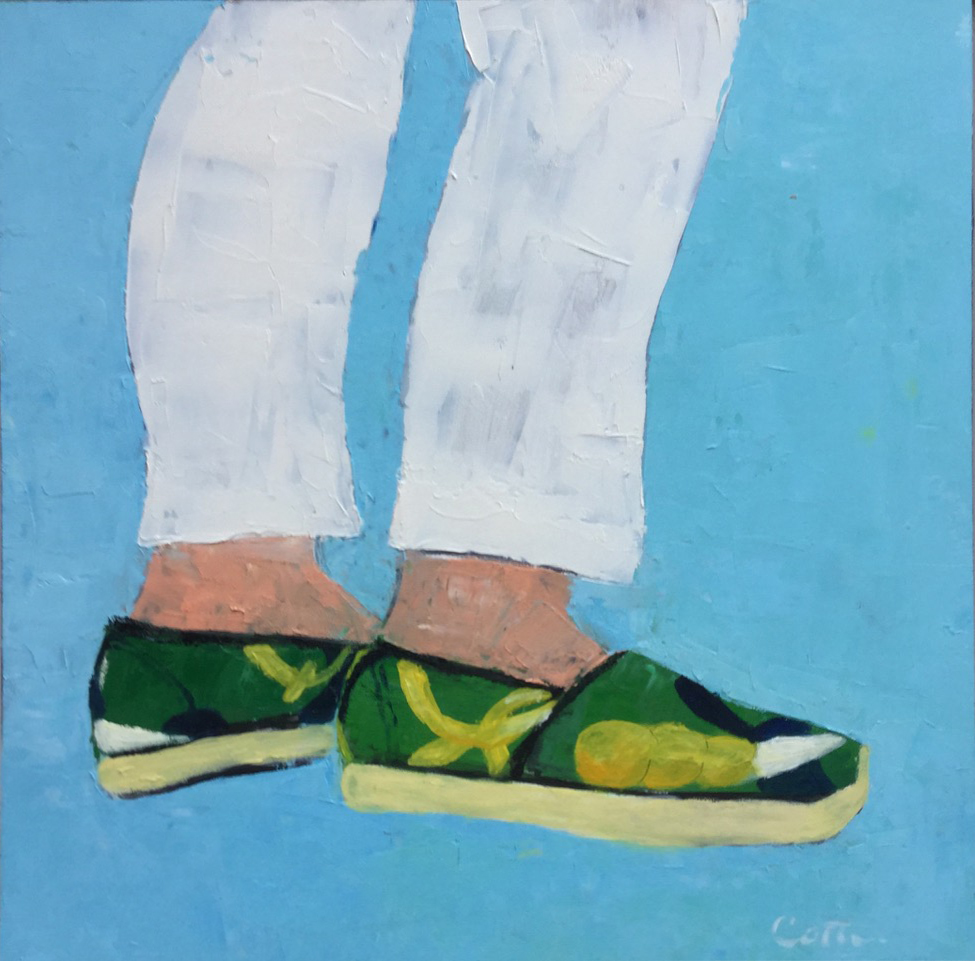 ARCHIVE | SEEING THE LIGHT 2017