ROBERT GOLDSTROM
SYMPOSIUM
AUGUST 14 - AUGUST 20, 2019
OPENING RECEPTION: FRIDAY, AUGUST 16, 7 - 10 PM
BIOGRAPHY
ROBERT GOLDSTROM IS AN ARTIST LIVING AND WORKING IN BROOKLYN, NY. AND HUDSON, NY. IN A FORMER LIFE HE WORKED AS AN ILLUSTRATOR, LEARNING HOW TO PAINT WHILE ON THE JOB AND EARNING GOLD AND SILVER MEDALS FROM THE SOCIETY OF ILLUSTRATORS. HIS WORK HAS APPEARED ON THE COVERS OF TIME, THE ATLANTIC, AND NEW YORK MAGAZINE; IN THE NEW YORK TIMES AND THE BOSTON GLOBE; POSTERS FOR THE NEW YORK CITY OPERA; STAMPS FOR THE UN; AND ILLUSTRATIONS FOR THE CHILDREN'S BOOK, "DREAM AWAY." EVENTUALLY, HIS DESIRE TO PAINT FULL-TIME WON OUT AND SINCE 2004, ROBERT HAS DIVIDED HIS TIME BETWEEN BROOKLYN, Hudson and PROVINCETOWN, PAINTING AND SHOWING HIS WORK AND ACCEPTING COMMISSIONS BASED ON HIS STUDIES.
ARTIST'S STATEMENT
WHETHER IT'S AQUARIUM PAINTINGS, FIGURES ON THE BEACH OR VIEWS OF BROOKLYN, ROBERT EXPLORES THE LIGHT AND MOOD OF A SCENE. "IT STARTS WITH SOMETHING I SEE TRIGGERING A FEELING THAT I CANNOT IGNORE. THEN I CREATE STUDIES, THAT SOMETIMES LEAD TO FINISHED PAINTINGS, SOMETIMES NOT. OCCASIONALLY, THE FINISHED PAINTINGS COME YEARS AFTER THE INITIAL IMPULSE, LIKE THE WIDOW'S WALK PAINTINGS, WHICH BEGAN IN 2005 AND REACHED FRUITION IN 2013. IT TOOK THAT LONG FOR THE IDEA, THE MOOD AND THE SCENIC DETAILS TO COME TOGETHER AND SCRATCH THE ITCH. FORTUNATELY, I HAVE A BACKLOG OF IMAGES IN MY HEAD WAITING TO BE TACKLED, SO IF ONE PICTURE IS GIVING ME TROUBLE I JUST MOVE ON AND COME BACK IN LATER, IF IT WON'T BE DENIED.
I PAINT DIRECTLY ON CANVAS, BOTH IN MY STUDIES ON ARCHIVAL CANVAS BOARDS AND IN THE FINISHED PAINTINGS. SINCE MY PAINTINGS ARE SO COLOR-DEPENDENT, I'VE FOUND, THROUGH TRIAL AND ERROR, THAT PRELIMINARY DRAWINGS DON'T TAKE ME WHERE I NEED TO GO. SO I START WITH OIL WASHES TO PUSH THE PAINT AROUND EASILY AND SET THE COMPOSITION, LET IT DRY, THEN FINISH IT OFF WITH HEAVIER PIGMENT AND A HOMEMADE PAINTING MEDIUM. I ALSO MAKE MY OWN JAMS AND MARMALADE.
Ten years ago I was on photo safari in North Truro and noticed a few people under an umbrella having an animated conversation on the beach, one of them sitting in the sun, with my husband in the background taking his own pictures. Something about the situation stayed in my head all this time until, after several attempts, it has evolved into the Symposium, referring to the ancient Greek custom of a lively discussion after a banquet.
COMMISSIONED WORK IS AVAILABLE. PLEASE INQUIRE AT ADAMPECKGALLERY@GMAIL.COM
SYMPOSIUM 2019
ARCHIVE
ANATOMY PAINTINGS 2018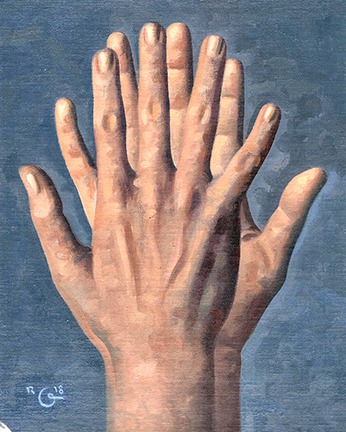 MEN AT WORK 2016
The bulk of this show is made up of studies for a large group painting I've been working on for several years, depicting a man planting the half-barrels on his dock, while people are enjoying themselves on the beach. It is a grander iteration of the "Bunny Paintings" I have created over the last ten years, depictions of people working around their homes in Provincetown. For over a century, artists have flocked here to paint the natives at work whether whaling or fishing or sailing. Now the business of Provincetown is tourism, and the inhabitants are busy keeping the place looking attractive. This is how I compose a picture, with multiple studies, some of which find themselves in the finished canvas. It is my way of sketching.